Argh! I'm SO frustrated. I loathe it when women contact me for advice and information, and I supply it to them, and they STILL end up with botched piercings. That's exactly what happened....
I received a message: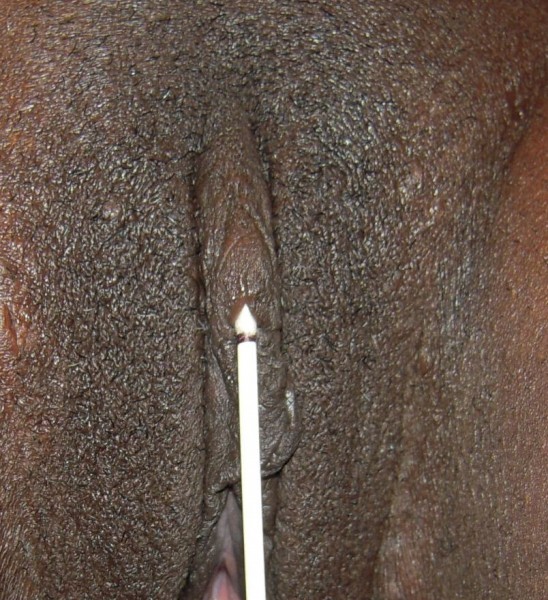 I've been doing research on VCH piercings and have tried the Q-tip test but i'm not certain if I'm doing it correctly.  The plan is to have it done as a Christmas present to myself but I want to be certain on whether or not I am built properly for this piercing.  Attached are the best photos I could capture while trying to do the test.  Thank you in advance for any information/suggestions that you may have.
 
Respectfully, W.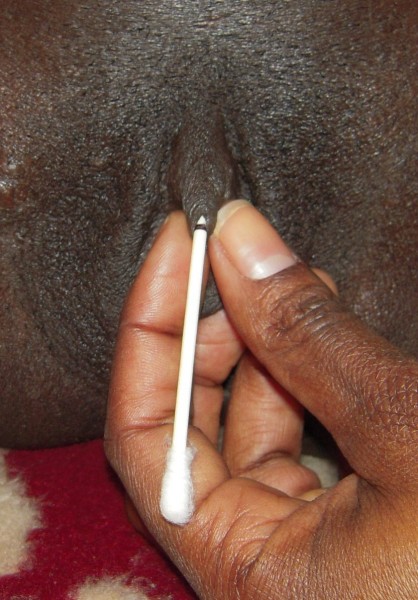 I sent her a comprehensive reply:

Yes! You do appear to be a candidate for the VCH piercing--though your hood appears to be a tad shallow, requiring adjustment of the tissue, so you will need to make sure the piercer you go to is highly experienced and skillful.

I closed my French Quarter studio after Hurricane Katrina and relocated from New Orleans to the Yucatan of Mexico. I pierce in different studios around the US.  Where are you located? My next piercing trip is to the Los Angeles area: http://piercingbible.com/newsletter/2011/11/elayne-angel-piercing-los-angeles-area-january-27-29-2012 and I will be working on more plans soon.

If you would like to be notified when I make travel plans, please sign up for my newsletter in the box on the left lower portion of the page: http://piercingbible.com It is an "opt-in" list, so I can't add you myself. 'll be in Philadelphia in March or April, and have plans to visit Albuquerque and Phoenix, and possibly Dallas in the next few months.

My piercing fee is $100 for an initial piercing, plus the jewelry. Additional piercings on the same person in the same session are $50. each (plus jewelry). I've never, ever had someone regret that they waited for me, or traveled to be pierced by me, or had someone feel unhappy that they paid what I charge; it is well worth it to get the job done properly. Unfortunately, I've heard plenty of regrets from those who haven't visited me and I get emails DAILY about botched genital piercings! To read about some of them, you can take a look at my blog: http://piercingbible.com/blog. It is such a shame how common that is!

All of my piercer referrals are posted on this page of my website: http://piercingbible.com/piercer-referrals

If I haven't personally worked with or trained any piercers in your area, you can check the website for a member of the Association of Professional Piercers who is local to you:

http://www.safepiercing.org/locate-an-app-member/searchable-member-database/

The APP is a non-profit international organization dedicated to disseminating vital health and safety information about piercing to piercers, piercees, medical professionals, legislators, and the general public. The piercers are not "certified" by the association, however. While some of the piercers on the list may have taken my seminars at the annual APP conferences, I still wouldn't consider them to have been "trained by me," as those courses only last a few hours and aren't sufficient for providing a thorough education. Please meet the piercer and see if you develop a good rapport and if they inspire your confidence.

The best thing I can suggest to help you make good decisions about piercing is to become a more well-educated consumer. If you found my website informative, I think you'll be amazed by all of the valuable facts and practical advice in my book, The Piercing Bible--The Definitive Guide to Safe Body Piercing.  It contains loads of information about evaluating piercers and studios, piercing placements, appropriate body jewelry sizes, styles, and materials, aftercare, troubleshooting, and much, much more.

These particular chapters will help you learn how to evaluate piercers (and body jewelry, which is also crucial to the success of a piercing):

Part 2 Groundwork and Preliminary Considerations 
3 Risks, Myths, and Warnings  .................................  20
4 Is Piercing Right for You? ....................................  28
5 You and Your Piercer  ........................................ 34

Part 3 Piercing Preparation
6 Picking and Preparing  ......................................  44
7 At the Studio ..............................................  49
8 Piercing Procedures ........................................  56
9 Jewelry 101: Sizes, Shapes, and Materials  .......................  65

Part 4 The Holes
13 Below the Belt: Female and Male Genital Piercings ......................134

After reading The Piercing Bible you will be extremely well educated about the subject, and in fact, you'll have a lot more information than some "professional" piercers who are practicing in the field!

To order: go to my web page: http://piercingbible.com, locate the book cover in the right-hand column then select your shipping method from the drop-down menu. Click the "Buy Now" button, or email: [email protected], or call toll free: 888 888-1APP. Orders are being filled by the Association of Professional Piercers. I serve on the Board of Directors as President of the organization. A portion of the proceeds from the book goes to the organization, and you will received a signed copy of my book. We do ship internationally.

Alternatively, you can get it from major booksellers, or Amazon.com:
http://www.amazon.com/dp/1580911935?tag=buckangelcom-20&camp=14573&creative=327641&linkCode=as1&creativeASIN=1580911935&adid=1EYKA9N6TT0ZJTGPADYC&

Also, if you'd like to see me performing piercings, and demonstrating exactly where they should be placed and how quickly and easily an expert can perform them, I've got videos available here:
http://www.clips4sale.com/store/10557  (You'll see that a piercing can be performed in an instant!)

Let me know if you have other questions.
 
Sincerely,
Elayne
She responded: 
I truly appreciate your quick response and it is exactly the kind of information I was looking for.  When I have time, there are a few piecers that I will talk to. Do you have any suggestions for professionals in the DC, MD, VA area?  I did check out the website on you page but it didn't indicate anyone within the 100 mile radius.
My next message to her:

Sometimes it is necessary to wait and/or travel to get a good piercing.

As a member of the Association of Professional Piercers, I work only in studios that meet the environmental criteria of the organization. Unfortunately, there isn't a single studio in NYC that has a member. Most of my NY clients and others from all over the East Coast come to see me when I'm in Philadelphia. I plan to return there several times a year, and my next visit will be in March or April--I haven't set the dates as yet.

Sincerely,
Elayne

Her next message really bummed me out:
Elayne,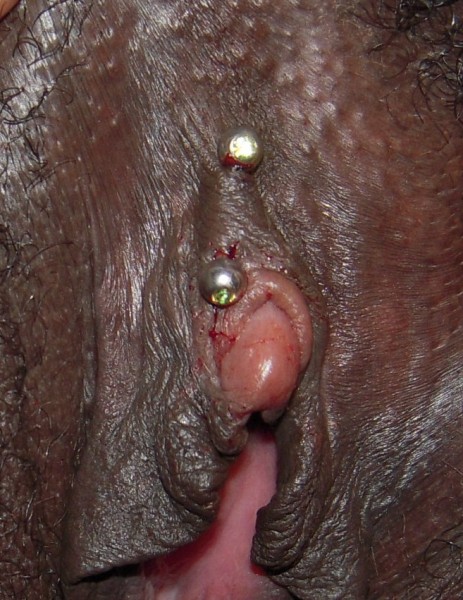 Hello again and Happy Holidays to you and yours!!!!
 
I emailed you a few weeks ago to get your opinion on whether or not I was a candidate for the VCH piercing.  With the information you sent I went to a local piercer at a shop where I frequent for my tattoos and he said the same thing...almost verbatum as to what you said in terms of having to make a slight adjustment simce my hood was a little shallow.  He was very professional and it was quick and almost painless and in the shop I thought it was placed well.  But once I got home and took a closer look it seems to be a little off but I have an amature eye so could you please take a look at the attached pics...I'm not sure what to do.
 
My last response: It is apparent that the "slight adjustment" your piercer spoke of was definitely NOT the same as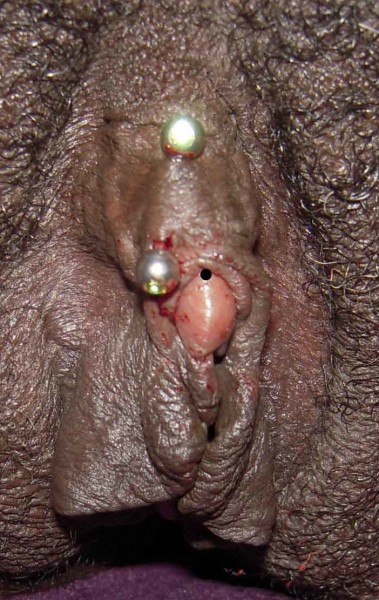 the one I was referring to! I hate to have to tell you this, but your piercing is "more than a little off"--it is not even placed under your hood! You have received a VCH surface piercing as described on this page of my site: http://piercingbible.com/female-genital-piercings#VCH

I've marked your photo with a black dot where the piercing should have been placed coming out from underneath your hood so the jewelry rests against your clitoris  (where you placed the swab for the q-tip test). This is exac tly what I was trying to protect you from when I provided you with the information I previously sent you.

You should go in and get your money back and abandon the piercing. I would not suggest having the same piercer redo it, since he clearly didn't know how to properly place your VCH piercing the first time.
Let me know if you're interested in booking an appointment during my next visit. I plan to pierce in Philadelphia April 12-16, 2012 at Infinite Body Piercing.