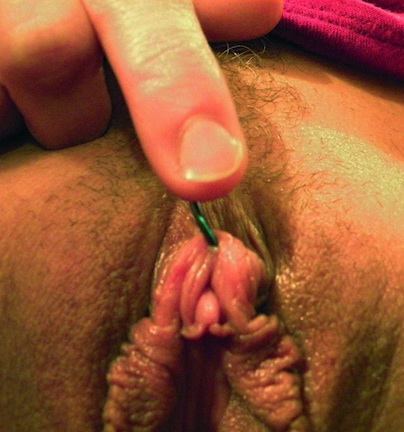 I got yet another email about a surface VCH piercing:
Hey Elayne,
  I'm sure you hear this often but your site is great, very informative...I had never stopped to think twice about genital piercing beyond the usual 'eek, not there' but after learning on your site (don't even remember what took me there in the first place) that it didn't have to be the actual clit itself pierced I was all for it. Unfortunately, I was so excited I went to the nearest female (husbands requirement) body piercer and had it done. Seemed fine at first but soon noticed it was more shallow of a piercing than I believe is correct (pic attached) and I am pretty sure I have plenty more hood that could have went into, not to mention it doesn't rest against the clit and there seems to be way too much barbell exposed (I think it just a standard barbell and that's the usual for this piercing right?) Oh and I'm not positive but it seems as if it is migrating though my husband says he doesn't notice..

I had noticed you will be in TX soon and would love to go there so you could fix this...as well as do both nipples (hoping will increase their sensitivity, breastfed 2 babies and my daughter was a lil monster about it!!) and repierce my navel too. Too bad for me I can't afford to spend that much on travel and piercings when I have a family and bills to pay. I was curious if you ever had plans to come to Kansas? 

If not, could you possibly point me in the direction of a 'Master' piercer this time, male or female (I just won't tell my husband if male). So I can get this fixed and start enjoying it...I would really appreciate it and keep up the excellent work!
My reply:

You definitely have a "surface VCH" piercing there--it is not properly placed. The jewelry should be resting under your hood against your clitoris. I would suggest removing the jewelry and letting the piercing heal for a month or more before planning to get repierced. I've received 2 other emails just today from women who have experienced the exact same problem--it is shockingly common!

Unfortunately, I don't have any plans to come to your area. All of my piercer referrals are posted on this page of my website: http://piercingbible.com/piercer-referrals

I haven't personally worked with or trained any piercers in your area. You can check the website for a member of the Association of Professional Piercers who is local to you:

http://www.safepiercing.org/locate-an-app-member/searchable-member-database/

The APP is a non-profit organization dedicated to disseminating vital health and safety information about piercing to piercers, piercees, medical professionals, legislators, and the general public. The piercers are not "certified" by the organization, however. While some of the piercers on the list may have taken my seminars at the annual APP conferences, I still wouldn't consider them to have been "trained by me," as those courses only last a few hours and aren't sufficient for providing a thorough education. Please meet the piercer and see if you develop a good rapport and if they inspire your confidence.

The best thing I can suggest for you is to become a more well-educated consumer. If you found my website informative, I think you'll be amazed by all of the valuable facts and practical advice in my new book, The Piercing Bible--The Definitive Guide to Safe Body Piercing.  It contains a great deal of information for everyone interested in piercing including loads of information about evaluating piercers and studios, piercing placements, appropriate body jewelry sizes, styles, and materials, aftercare, troubleshooting, and much, much more.

These particular chapters will help you learn how to evaluate piercers (and body jewelry, which is also crucial to the success of a piercing):

Part 2 Groundwork and Preliminary Considerations 
3 Risks, Myths, and Warnings  .................................  20
4 Is Piercing Right for You? ....................................  28
5 You and Your Piercer  ........................................ 34

Part 3 Piercing Preparation
6 Picking and Preparing  ......................................  44
7 At the Studio ..............................................  49
8 Piercing Procedures ........................................  56
9 Jewelry 101: Sizes, Shapes, and Materials  .......................  65

Part 4 The Holes
13 Below the Belt: Female and Male Genital Piercings ......................134

After reading The Piercing Bible you will be extremely well educated about the subject, and in fact, you'll have a lot more information than some "professional" piercers who are practicing in the field!

Orders are being filled by the Association of Professional Piercers: http://www.safepiercing.org/publications/the-piercing-bible/

Call toll free: 888 888-1APP or email: [email protected] I serve on the Board of Directors as Medical Liaison. A portion of the proceeds from the book goes to the organization, and you will received a signed copy of my book.

Alternatively, you can get it from major booksellers, or Amazon.com:
http://www.amazon.com/dp/1580911935?tag=buckangelcom-20&camp=14573&creative=327641&linkCode=as1&creativeASIN=1580911935&adid=1EYKA9N6TT0ZJTGPADYC&

Also, if you'd like to see me performing piercings, and demonstrating exactly where they should be placed and how quickly and easily an expert can perform them, I've got videos available here:
http://clips4sale.com/10557  (You'll see that a piercing can be performed in an instant!)

Let me know if you have other questions.