I received a photo from a woman who found my website after getting her Vertical Clitoral Hood (VCH) piercing done. She thought something didn't seem right with it. This is my response: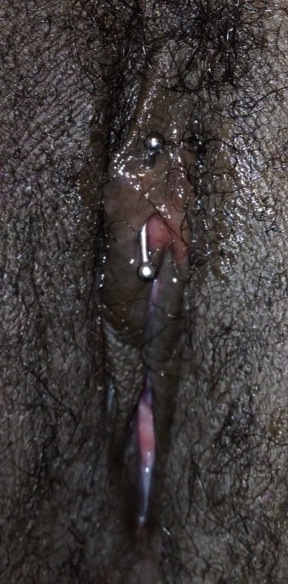 It might be in the right spot. I'd need to see it from underneath to be sure. See attachment that shows a shallow VCH piercing with the optimal placement marked.

Also, your bar is far longer than it needs to be. This can cause discomfort and also excess trauma, which can delay healing and cause complications such as scarring.

Further, the bar looks like it may be thiner than the safe minimum size (14 gauge), and the balls are very small, which could result in embedding. I would suggest you get a shorter bar in, and one that has larger balls than what you're wearing now.
Even if the jewelry is thinner than it should be, I would advise you to wait until the piercing has fully healed and settled (at least 3 months) before getting a thicker piece of jewelry put in. It would not need to be repierced to do that. This tissue is quite malleable and stretchy and can go up in size quite easily. A piercer can do it with a device called an insertion taper. It might feel somewhat tight or pinchy, but if you stretch it slowly enough, it will not cause damage or need to reheal.
Are you following the aftercare as suggested here?