I received a message from an apprentice piercer who was concerned about the placement of a Vertical Clit Hood piercing he recently performed:
I'm an apprenticing piercer and my fiancee agreed to come in for a supervised VCH piercing with my instructor. I'm pretty positive that we ended up with a surface piercing rather than a genuine, and correct VCH. I explained my concerns to my instructor and she assured me that it was done correctly, but I'm pretty certain this is incorrect. 

We did the q-tip test ahead of time and utilized a NRT for the procedure, so I'm a little uncertain as to how we ended up where we are. Secondarily, the jewelry the piercer selected is far too short (easily remedied). The piercee is very uncomfortable and sore. 

I'm inclined to have her remove the jewelry and begin healing, but wanted a second opinion before doing so.

Thank you.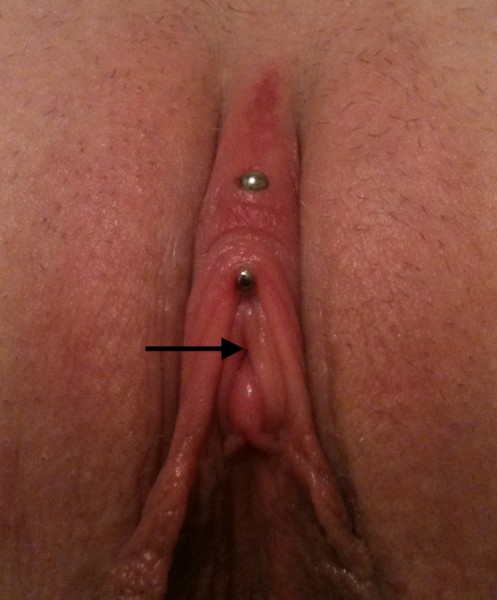 My Reply:
I'm glad you contacted me. That jewelry absolutely needs to come out before it gets embedded. And, since the piercing is not placed properly, I would not advise that even properly sized jewelry be reinserted.
You're correct: that is a surface piercing, not a VCH. I marked the photo with an arrow to indicate where the jewelry should be coming from (underneath the hood, against the clitoris). 
How long have you been engaged in your apprenticeship and how carefully did you check into this mentor's qualifications? I have grave concerns for your education if this is representative of her work as an instructor--especially if she tried to tell you this was in any way "correct." 
Even the if piercing were properly placed, that jewelry is dangerously short. It sounds like her ego is more important than your fiancé's safety, or she would have admitted her error. Or, perhaps she is truly unclear on these matters. Either way, it is a bad situation, not just with this piercing, but overall.
You are obviously not being given an adequate or appropriate education. Are you paying for this apprenticeship? I strongly suggest you reconsider continuing to pursue instruction under this individual.
You might find some helpful information about apprenticeships in this post: