I got an interesting message from a man who had received a poorly placed Prince Albert piercing:

Hello Ma'am,

I recently 2 weeks ago got a PA at what is know as a good local piercer at my town.  The piercing was done with a 12g after the initial pain went away I began to feel like a blade cutting into me.  By day three I saw that the hole had already stretched so I changed it to an 8g.  The 8g fit right in, no pain, no more discomfort and it felt great when in use.  By the end of the first week I no longer had any discharge, pain, redness, nothing.  It felt like its been there all my life.  I liked the piercing so much I started to read everywhere about things I could do to make it cooler or better.  At one point I saw your site and did a lot of reading there.  (By the way, best site on the net about piercings) I noticed that every good PA had at least past the penis glans.  As you can see on the picture I sent my hole is just 1/4 inch from the tip of my urethra split.  I also noticed by week two the my PA had stretched a little more.  Even though I had no pain and it looked great I felt I had too little skin  for the PA to remain.  This picture was taken only 24hours since I took out my PA and already the piercing is closing.  Now I love the PA and will do it again.  So I need some opinion from you. 
I'm not circumcised.  However, I do not have a problem if my skin gets "stuck back".  Where I come from as a manhood passage in my family we do a self circumcision which is a violent masturbation over-and-over until the skin can be move back and forth at a total stretch without pain as if having a circumcision. In the end I get the best of both worlds without any problems.  Anyway.  Let me know if I'm correct in my thoughts.  I removed the first PA because it was too close to the front and I felt it would split my penis.  My next one I will ask the piercer to make the hole at least 1/2 to possible 1" inch down from the urethra split.  Do you have any advice for a person that has a penis like mine that is somewhere between a medical circumcision and still having the skin attached at the bottomed of the glans. 

Furthermore,  this is not to be weird just giving you more information.  My penis is usually around 3-4inches when flaccid and when erect it measures 8 1/4 and it is 1 3/4 thick.  Does having this large of a change effect the way the piercer should pierce me and if so how? Should it be done on a person like me?

Thank you for your time and again I love your site.  Will be picking up your book here soon.  Again, thank you. 

My reply:

Thanks for your message and for your positive feedback about my site.

You were right to remove the jewelry and abandon the piercing. It was not placed properly and you would be at risk of splitting the tissue there. You should be able to be repierced properly (by a professional that is more competent, hopefully!) Was your piercer trained in genital piercings? I would not have any level of confidence after seeing the poor placement of your initial piercing. I would not suggest you return to that piercer.

That said, it isn't simply a matter of you being able to tolerate your foreskin being retracted. There is a serious medical issue that can result from this. See this blog post on my site:
http://piercingbible.com/blog/2011/03/prince-albert-piercing-complication-paraphimosis

You may be safer to start with a curved bar, rather than a ring for initial healing. Especially if you want to have the piercing placed further from the tip of your penis, as this increases the diameter of a ring needed to fit such a placement. Probably starting with a 10 ga is a good size as you should not have the same problem with the cutting feeling. It is best to leave initial jewelry in place until the healing is done.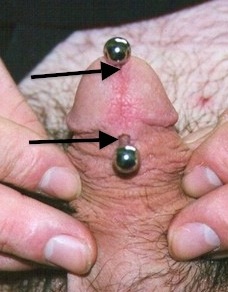 See the photo left, which shows where the bar should be measured from.

It is difficult to advise you on optimal placement without seeing you in person. I would examine the area carefully and manipulate the tissue to look for a natural crease, groove or other anatomical feature that suggests optimal piercing placement in the desired region. The proper placement and jewelry must not restrict the movement of the foreskin.

I'd suggest the piercing be made at least 5/8" from the edge of your urethra when the you are flaccid. Note that if you do wish to wear a ring eventually, a 1" ring would be needed if the piercing is made 1" from the edge of your urethra. And that is quite a large piece of jewelry, which may not fit comfortably in your foreskin.