I received a message from a man who experienced healing problems after getting his ear cartilage pierced by a piercing gun:
Hi Elayne,

I on a whim got my cartilage pierced at Clare's Saturday afternoon and it was doing really well up until today. I know the piercing gun is bad. i think I either irritated it or its showing signs of infection. Today when I woke up I cleaned it with theIr solution and I took a shower this afternoon and did the following:

1. After washing my scalp I used the Bronners Lavender to clean my ear (thinks its too harsh for me).

2. After I got out the shower I used their cleaning solution and spayed some h2ocean on it. 

3. It felted irritated so I soaked it in chamomile but I put 1/8 tsp of sea salt in the water and let it soak.

Well since then its red, burning, and throbs off and on. I attached a pic and I would value your opinion. 

Thanks!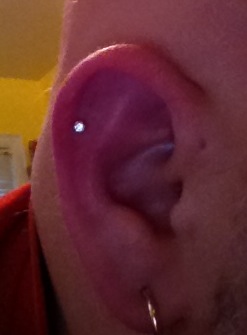 My reply:
Thanks for your message. You're OVERCLEANING with too many products. You only need one soap and some saline. Did you dilute the Dr. Bronner's? I suggest using their "baby mild unscented" formula. 
These are the care instructions I suggest:  http://piercingbible.com/piercing-care
Here is information on the saline soaks: http://piercingbible.com/saline-soaks
Further, you probably need to get that jewelry out in favor of some high quality body jewelry.The ear studs put in by most stud guns are not "one size fits all" and they are not the same quality material as is used in good body jewelry.
Also, the questions you've asked (and many, many more) are all answered in my book, The Piercing Bible. To order: go to my web page:
http://piercingbible.com, locate the book cover in the right-hand column then select your shipping method from the drop-down menu. Click the "Buy Now" button, or email: [email protected], or call toll free: 888 888-1APP. Orders are being filled by the Association of Professional Piercers. I serve on the Board of Directors as President of the organization. A portion of the proceeds from the book goes to the organization, and you will receive a signed copy of my book. We do ship internationally.
Alternatively, you can get it from major booksellers, or Amazon.com
I would advise you to become a better educated consumer before engaging in any additional piercings. The risks are real as each piercing (even on the ear) is a break in the skin.