Here's a recent consultation I performed for a woman who needed assistance with determining the best placement for a nostril piercing:
Dear Elayne:

I have a placement dilemma.  For years, I've secretly admired nose piercings but was too afraid to get a piercing of my own until about 4 months ago.  I was initially apprehensive due to being employed in a white collar work setting and being over 40 years old.  I did tons of research and decided to go for it-especially after learning that there is a variety of "discreet" jewelry, to avoid having to remove my piercing while at work.

Upon arriving at the tattoo/piercing studio, I had already envisioned where I wanted the placement on my left nostril to be.  I assumed that by requesting that the placement be madenear the lower part of my nostril & back-it would be an ideal way for the placement to be discreet.  

Well, after looking at my placement over and over again.  I feel that I did not choose an ideal or flattering spot for the piercing.  I have since taken out my nose jewelry to let the piercing close, so that I can have it re-pierced.  

Elayne, I have enclosed some pictures for you to assess the "best" placement location.
My reply:
Hi.
I've indicated what I believe would be the best placement for your nostril piercing on the photos you provided. One shows just a small circle for the placement I would describe as an ideal aesthetic for your anatomy. Let me know if you have additional questions.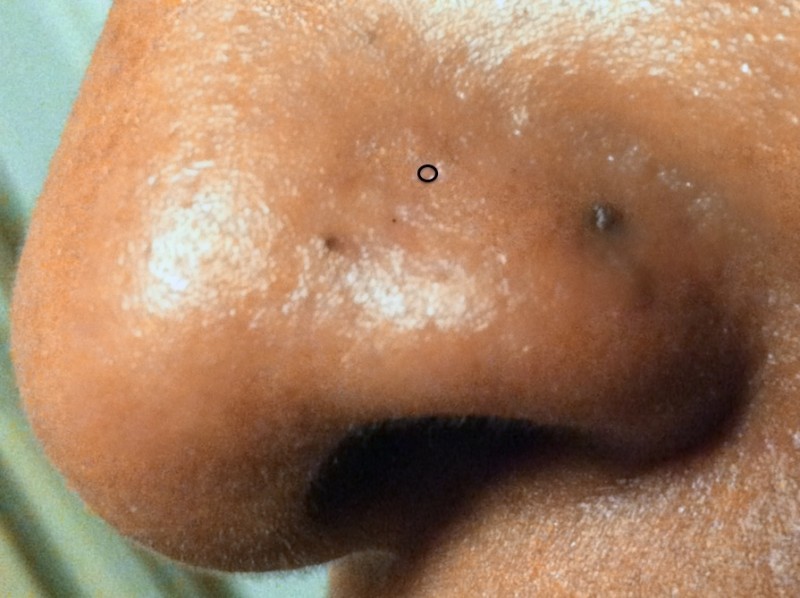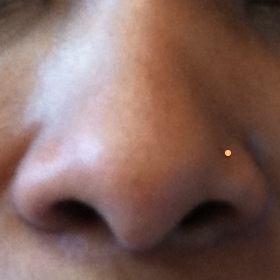 Nostril Piercing: Placement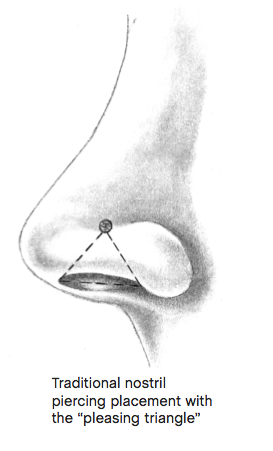 The traditional placement for a nostril piercing is at the crease line on the side of the nose. A big smile accentuates this feature to help pinpoint the spot. This area is often thinner than the rest of the nose, so it may heal faster and feel less tender when pierced. The jewelry will rest in a natural niche, where it nestles most gracefully. I find it aesthetically pleasing when the placement of the piercing forms a relatively equilateral triangular shape with the opening of your nostril, from end to end.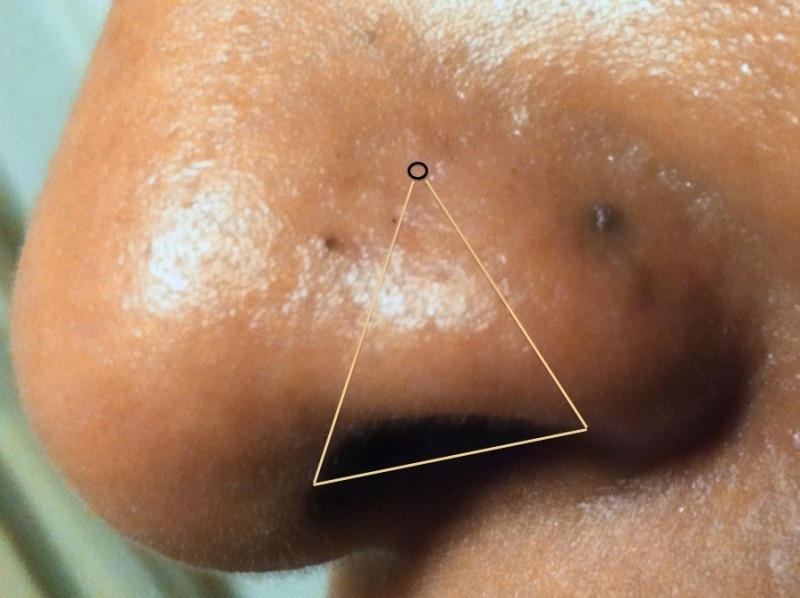 Depending on your preferences, other placements are also possible: higher or lower, closer to the tip of your nose or your face. The backing of a nostril screw or mini barbell will be visible when the piercing is too low, even if the jewelry is properly sized. Multiple nostril piercings are another possibility. Due to space constraints, you will achieve the most attractive, comfortable results when you decide on an overall plan before your first piercing is made.
Where are you located? All of my piercer referrals are posted on this page of my website:
http://piercingbible.com/piercer-referrals 
If I haven't personally worked with or trained any piercers in your area, you can check the website for a member of the Association of Professional Piercers who is local to you:
http://www.safepiercing.org/locate-an-app-member/searchable-member-database/
The APP is a non-profit international organization dedicated to disseminating vital health and safety information about piercing to piercers, piercees, medical professionals, legislators, and the general public. The piercers are not "certified" by the association, however. While some of the piercers on the list may have taken my seminars at the annual APP conferences, I still wouldn't consider them to have been "trained by me," as those courses only last a few hours and aren't sufficient for providing a thorough education. Please meet the piercer and see if you develop a good rapport and if they inspire your confidence.
She wrote back:
Elayne,

I am so pleased with your placement recommendation! I have one more question. When I get my nose re-pierced, I want to use a 14K yellow gold, 20 gauge, .75mm pressed fit diamond for my starter jewelry. Is that okay. I thought while my piercing is new/small in diameter, this would be the best time.
My reply:
Hi.
Since I won't be the one to do your piercing, you're going to need to discuss the jewelry selection with the actual piercer.
That said, 20 ga is the smallest gauge thickness (and the most common) that I use for that area. When you say "press fit" diamond, did you mean the Neometal style of press-fit jewelry (like a mini barbell) as shown here:
http://www.neometal.com/ That style comes in 18 ga as the smallest thickness.
I usually use 1.75 mm as the smallest gem size. Also 14 k yellow gold can be fine, but it MUST be made only with inert elements. See this information on initial jewelry materials:
http://piercingbible.com/jewelry-initial-piercings
Here's some information about nostril jewelry style options:
Nostril Piercing: All about Jewelry
The ordinary straight-post earring style with a press-on backing is dangerous if worn in the nostril because its sharp end aims right at your septum, where it can cause damage if bumped. A backing can harbor bacteria and secretions from your nose and the piercing, which increases your risk of infection. Stud earrings often call unwelcome attention to the interior of your nose, but they fall out easily if worn without the bulky backing.
A number of popular jewelry styles are much better suited to the nostril, and each has its own advantages and disadvantages. The placement and angle of the piercing is closely connected to the way jewelry fits in the nostril. 
Nostril Piercing: The Nostril Screw
The nostril screw is a stud modeled after a traditional East Indian design. The orna- ment displayed on the exterior rests atop a straight wire post that passes through the piercing; the tail terminates in a curl that rests flat against the interior of your nostril. This keeps the jewelry in place without requiring a backing. When properly sized and shaped to fit you, the jewelry is comfortable and is not visible inside your nose.
Nostril screws are less conspicuous than rings and they work well for healing, but only when properly adjusted to fit your nose. Pre-bent nostril screws do not take into consideration whether the jewelry will be worn on your left or right side, nor the individual thickness and shape of your nose. Ill-fitting nostril screws can cause serious problems, including embedding, tissue damage, and substantial discomfort. Your jewelry should be bent or adjusted for your anatomy.
Nostril screws set with gems are a very popular style for nostril piercings, and many of the stone settings are flat in the back, where they attach to the post. For the stone to rest properly on your nose, this, too, must be factored in with the angle of your piercing and the shape of your nose. On a nostril of average shape the same angle will often suit both a ring and a stud set with a gem.
Nostril Piercing: The Mini Barbell
A flat disc backing on a mini barbell minimizes jewelry on the interior of the nose, and it eliminates the need to bend or adjust the jewelry. The press-fit style with a remov- able end is versatile, as different gems or shapes can be interchanged with the help of hemostats to hold the post. Some piercers may not be familiar with this jewelry, but it is an excellent option for piercees who do not find nostril screws to be comfortable.
Nostril Piercing: The L-Bend Style
Some piercees prefer a modified nostril screw, the L-bend, which lacks the curl on the inside portion of the wire. This makes the jewelry easier to insert (which is convenient when you change yours frequently), but it is also more likely to fall out. After you are healed, this style can work well if you are careful not to dislodge it. A normal earring post won't be long enough to form into an L-bend; specialized jewelry is still required.
Nostril Piercing: The Nose Bone Style
The nose bone is a short, straight post that consists of a gem or other ornament worn
on the exterior and a small ball (approximately one-half to a full gauge size thicker than the post) on the inside. This requires you to stretch the piercing somewhat to insert and remove the jewelry, which has the potential to damage your tissue. They only work in a healed piercing if your skin is pliable. If not, they can be dangerous to the health of your piercing. The nose bone is not a safe design for a healing piercing.
She wrote back once more:
Elayne, I cannot explain to you how pleased I was with your prompt consultation. Your knowledge & expertise was just what I was looking for to address the placement issues that I was experiencing with my nose piercing. I am relieved to know that there was a solution.

 

Also, thank you for providing me the useful information from the Association of Professional Piercers (APP). I am defenitely more informed about my decision to have my nose re-pierced and feel confident because I am more knowledgeable when working with my piercer. Elayne, thanks so much! The pictures you sent me to show the area for the correct placement of my piercing were right on. I'm taking these with me to show my piercer.