I received a message from a guy about his friend's navel piercing he was concerned about (for good cause):



Hi Elayne, My friend has had her bellybutton pierced for about 7 months and its Infected and she won't take I out so I was wondering what to do for her?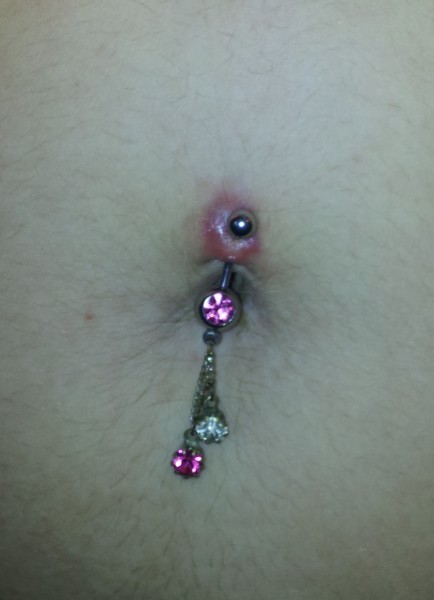 You could drive her to a high quality piercer, and possibly also a doctor! Fortunately, it looks as though the problem is still localized. But infection can spread to affect a wider area. If that happens, she really should see a doctor.

Based on how it looks, her piercing is going to reject. That reddened appearance form entry to exit is a very bad sign. It indicates that the tissue holding the jewelry in has been affected and is not healthy.

If she wants to try to preserve the piercing she must get the hanging jewelry out of there right away. Hanging or dangling jewelry should never be worn on a healing piercing or one that is experiencing problems. Navel piercings frequently take 6-9 months to heal, and hanging jewelry should be avoided during that entire time.

She should put in high quality, mirror finsih, internally threaded jewelry that fits properly. Also, the bar she's wearing is far too long, and that will cause problems as well, including excess trauma.
Further, she should care for it according to accepted practice:
http://piercingbible.com/piercing-care
and do saline soaks at least twice daily:
http://piercingbible.com/saline-soaks

Even if she does everything I suggest, there still may be no saving it.
This is from my book, The Piercing Bible, and it is sound advice for her:
Dealing with Rejection and Migration
When your jewelry moves closer to the surface or your tissue gets narrower between the openings of a piercing, you are experiencing migration. The piercing may move only a little and then settle and stay in a different position. For safety and longevity, a piercing should have at least 5/16 inch (almost 8 mm) of tissue between the entrance and exit holes. If your piercing is narrower than that, there is a strong possibility you will lose it.
Don't allow jewelry to come all the way through to the surface or an unsightly split scar will often remain (unless you undergo plastic surgery). Also, future repiercing could be more difficult if you permit the jewelry to be completely expelled from your body.
A body piercing should be abandoned if the tissue between the entry and exit pro- gressively gets smaller or thinner over time and any of the following happen:
The skin between the openings is flaking and peeling, red and inflamed, or hard and calloused-looking.

You have less than 1/4 inch of tissue between the openings.

Just a thin filament of nearly transparent tissue is left, and you can virtually see the jewelry right through your skin.