I recently received a message from the owner of an adult boutique who is interested in carrying body jewelry:

Hi Elayne, I own a lingerie boutique in a small town and have many customers ask me for body jewelry, particularly for hood piercings. I was not familiar with the many types of piercings until I found your website while researching body jewelry. Thanks for posting all the wonderful information! But I am still trying to figure out which type and size of body jewelry I should research and recommend for my customers. Labret studs? Rings? Any info to get me started in the right direction would be so appreciated!
Thanks, G.
My reply:
Hi G.,

Thanks for your message.

Stocking body jewelry without being a piercer is not going to be easy, as there is much to know, and SOOO much (mostly junk) on the market. Wearing junk jewelry in genital piercings can be disastrous!

Many women don't know the size they should wear--a skilled piercer is needed to evaluate their build and the placement of the piercing, and discuss personal preferences for stimulation in order to select the most effective and comfortable piece of jewelry for them.

Many women need help to insert their hood jewelry. That would require an autoclave sterilizer, insertion tapers, gloves, other equipment, a private area, and a whole lot of knowhow that you can't be expected to have as an owner of a lingerie boutique.

If you want to just stock a variety, you can do that, but some women are going to end up buying jewelry they can't use. And I know you won't want to accept returns on (or even touch!) body jewelry that has left the premises.

I primarily use 14 and 12 gauge curved bars for VCH piercings--the most common one that I do. The usual sizes range from 3/8", 7/16", and 1/2" though some women need longer. J-curves are a good option too. Some captive rings and circular barbells would be needed as well.

Internally threaded jewelry is safer and more comfortable.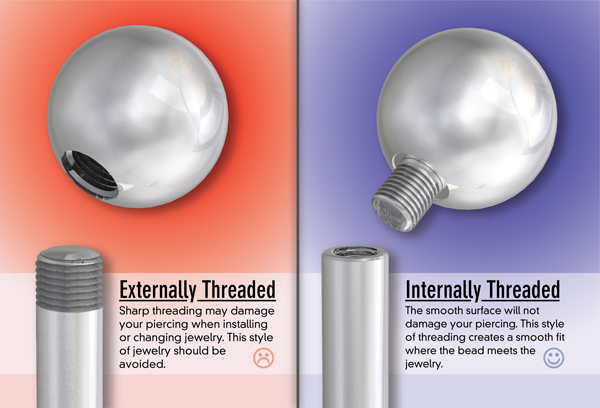 I suggest Industrial Strength Body Jewelry and Body Circle. They both make quality products right here in the USA.

The threaded ends mix and match between these companies.

(and Industrial Strength, LLC for needles and tools--this is a different company), if you want to stock insertion tapers.


If you're really planning to carry body jewelry, I'd strongly suggest you read my book. It will provide you with a GREAT deal of information you will need in terms of styles, quality, materials, and much more.

After reading The Piercing Bible you will be extremely well educated about the subject, and in fact, you'll have a lot more information than some "professional" piercers who are practicing in the field!

To order: go to the right-hand column on my web page: http://piercingbible.com, locate the book cover, then select your shipping method from the drop-down menu. Click the "Buy Now" button, or email: [email protected], or call toll free: 888 888-1APP. Orders are being filled by the Association of Professional Piercers. I serve on the Board of Directors as President of the organization. A portion of the proceeds from the book goes to the organization, and you will received a signed copy of my book. We do ship internationally.

Alternatively, you can get it from major booksellers, or Amazon.com.

Sincerely,
Elayne

Elayne Angel, Author
The Piercing Bible--The Definitive Guide to Safe Body Piercing
President, Association of Professional Piercers

[email protected]
http://piercingbible.com/
http://www.facebook.com/elayneangel
http://twitter.com/elayneangel
http://www.linkedin.com/in/authorelayneangel