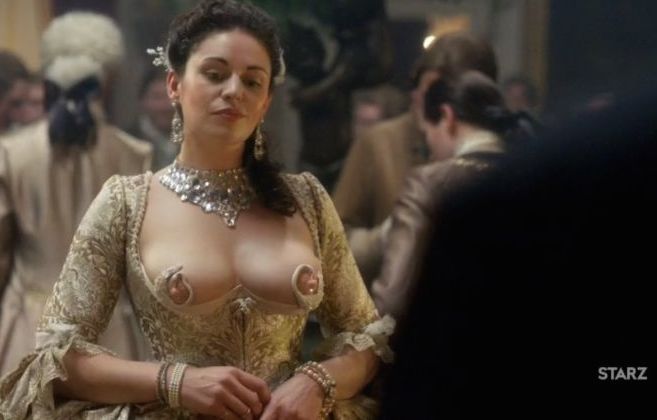 From The Muse:
This particular look is taken right out of Diana Gabaldon's book Dragonfly in Amber from the Outlander series, and has been long-awaited by die-hards. Costume designer Terry Dresbach told Vanity Fair all about it:
It was hard to find reference material for it, and we weren't able to locate a lot of paintings where women at that time had pierced nipples, so we sort of leapt and went with the books and tried to get as close to it as we could creating it ourselves. It was difficult. There's no jewelry store that sells it. Those nipple rings were created on my kitchen table out of Fimo clay. There were many, many attempts to make swans that would completely do what they needed to do. It's one of the most interesting jobs I've had in my career.
She added that it's one of the most intricate looks of the season: "When people get over looking at the nipples—our fans watch each episode three or four times—they'll see that gown is very ornate, very couture, as would be appropriate for the king's mistress. That dress would have cost a fortune to make and the detailing on it is really quite exquisite." It's a real showstopper, all right.