Well, this is a milestone for The Piercing Bible: my book has received over 100 reviews on Amazon.com, resulting in a 5-star average, which is SO fantastic! 
Thanks to each of my readers who provided a positive review on that site (or any other). Below is a shot of the Amazon page.
But, I wanted to let everyone know how disappointed I am in Amazon.com. They refused to give me an affiliate account so that I could receive a small portion of the proceeds when someone purchased a copy of my book by clicking through from my website. They declined because my website contains what they consider to be "adult content." 
I spoke with a manager and made my appeal for the educational nature of my site (it isn't porn--not that there's anything wrong with adult media, but that simply isn't what my book or website is about). Still they said they could not allow me to have an account to sell the book from my website, which covers the same topics that are contained in the text. Yet they sell the book. I don't think that makes any sense.... 
I appreciate reviews there, since it is such a popular website; however, I do have a request:
If you're going to purchase the book, I'd much prefer you do so from the right sidebar on any page of this website. You'll get a copy that I have personally autographed, and 25% of the proceeds will go to the Association of Professional Piercers--a non-profit organization dedicated to sharing health and safety information about piercing.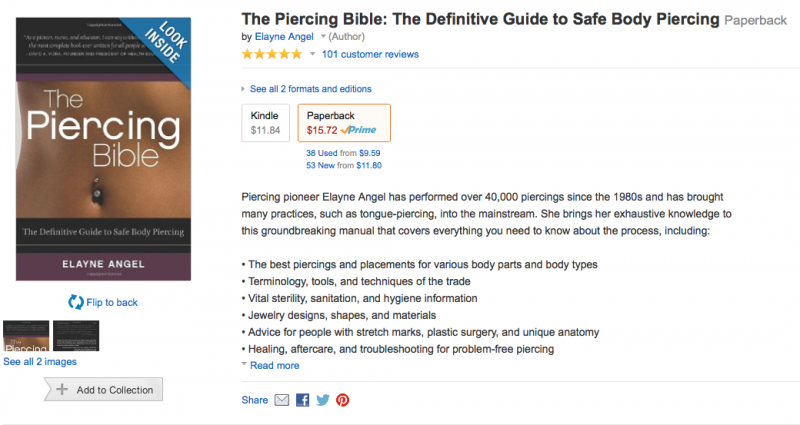 Still, if you've read the book but haven't provided a review, feel free to add one there.
Thanks for your support!