I got a message from a woman who had her navel pierced on multiple occasions without success:
Hi,
I wondered if you could help please. I'v now had my belly button peirced 5 times over the years and every time it grows out within a few month. The bar comes right to the surface so there's no longer any skin holdin it in and just a scab. I really don't no why this is happening I look after it well. I have my ears peirced since been a baby and never had any problems. The scar I'm left with is quite big and each time I used to get it peirced behind the scar. I really would like to have this peircing and for it to heal fully which it never has. Please can u advise if there is anything I could do or to just give it up as a bad job :(

Thanks for your time I look forward to your reply.
Did you do anything different to try for a different outcome? Alternate care or jewelry material? If you do things the same way, you can expect the same results.

Was your jewelry high quality with a mirror finish? See photo (of jewelry availble here):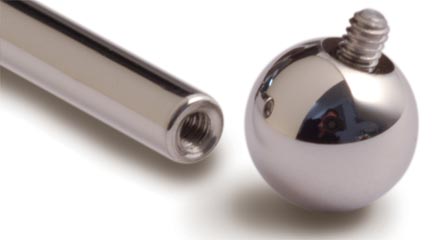 Hey Elayne thanks so much for your reply. I tried different caring stuff but I think a peircer has only tried 1 alternative material. I try my best to look afta it well but within weeks months at the most its out. Because my ears are fine I have a feelin I might be allergic to the material. I have attatched some photos. Any advise on what to would be greatly appreciated. As u can see I've just had a baby and my stretch marks are awful and a pericing would make me feel a little better.
I'd seriously suggest you read my book The Piercing Bible, and then you can make a truly informed decision about whether or not to repierce after having ALL of the information you really should have. There's far more you need to know than I can provide in an email.  There are so many factors to consider. But until you learn more, I would not suggest you repierce or you're likely to end up with the same results….

To order locate the book cover in the right-hand column then select your shipping method from the drop-down menu. Click the "Buy Now" button, or email: [email protected], or call toll free: 888 888-1APP. Orders are being filled by the Association of Professional Piercers. I serve on the Board of Directors as President of the organization. A portion of the proceeds from the book goes to the organization, and you will receive a signed copy of my book. We do ship internationally.

Alternatively, you can get it from major booksellers, or Amazon.com.
The truth is, because you've had multiple failed attempts, so now it would be even harder to heal because of the scar tissue that has ben generated in the area. And now you have the added issue of stretch marks from your pregnancy.
This is a brief excerpt from my book:
Stretch marks are a form of scarring caused by stretching and tearing of the skin. They are frequently present in the region of the navel and they are weaker than other skin, so it is best to avoid them. Piercing near a stretch mark is preferable to going right through it because of the increased risk of migration or rejection.

Have you done this aftercare regimen with saline soaks?
Please educate yourself and give due consideration before making a decision about repiercing.