I received a message about a piercing issue that was a little different from most of the problems I get concerning Vertical Clitoral Hood (VCH) piercings or triangle piercings: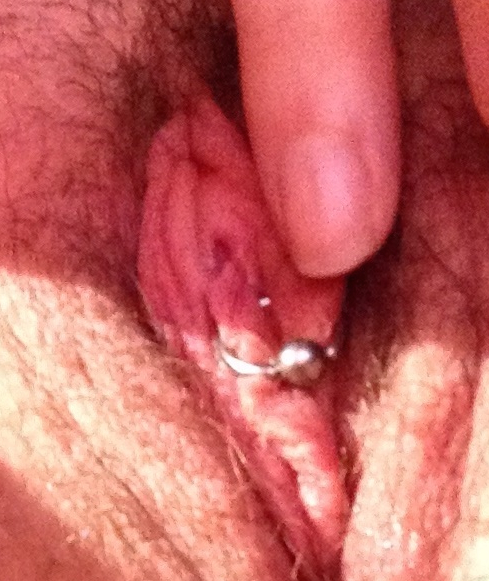 Okay, so I got this piercing a couple of days ago and it's been a bit more  
uncomfortable than I expected it to be. So today I sat down and had a proper  
look at it.
At first glance it seems fine but on closer inspection it appears  to be pinning two of my folds on my left side together - to the extent that I can see the bar between the two.
I do like it and would be sad if I had to give it up but do you think it will heal?

Thank you.






Indeed, it is apparent that you got a double piercing of your inner labia. Normally it is not advisable to join two piercings together with a single piece of jewelry in that way. That said, the inner labia is among the easiest and quickest to heal. And there is a chance that if you left it as-is, they might heal up okay.
More importantly is the question of where you wanted your piercing to be located. From just one photo, I can't say, but do you think if the jewelry was unhooked from the second hole, whether you'd like the way it looks with a piece of jewelry in each perforation? 




You may want to return to the piercer (or another) and ask for a second piece of jewelry and have them help to unlink the two piercings. If you do not like the way it lookw with both, then you can remove the jewelry from one.

Importantly, if you're not happy with the placement of either hole at that point, then you should abandon them ASAP. Once inner labia piercings fully heal, they're unlikely to close back up (unlike most other body piercings).




I'm curious—did the piercer mark you beforehand and show you the marks? And did he or she use forceps or a freehand technique?




If you trust your piercer, and you're not happy with the work, this does seem like a reasonable repiercing for no charge if you wanted to start over with a single piercing that is placed in a different location.




Let me know if you have other questions, and feel free to send more photos.